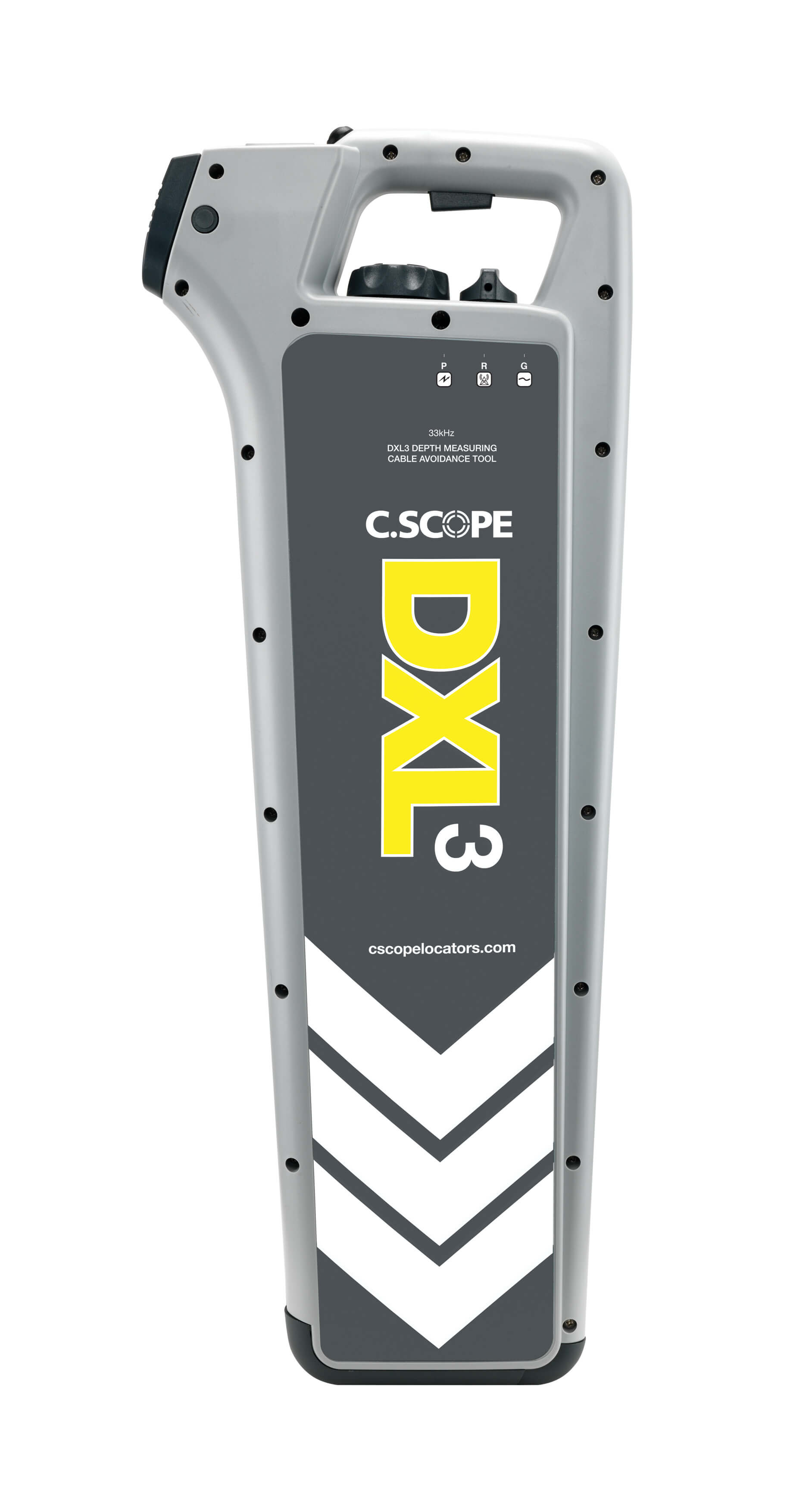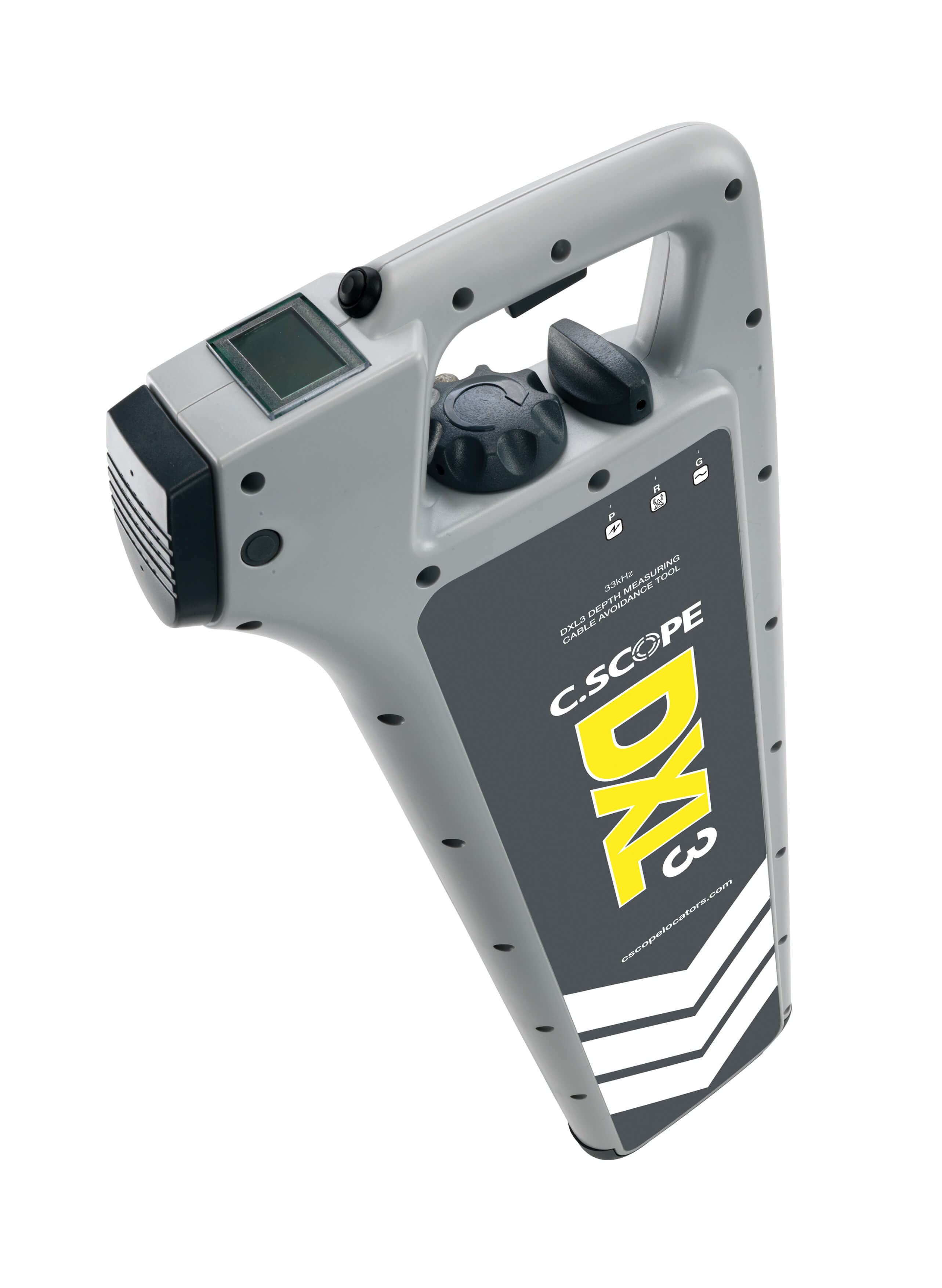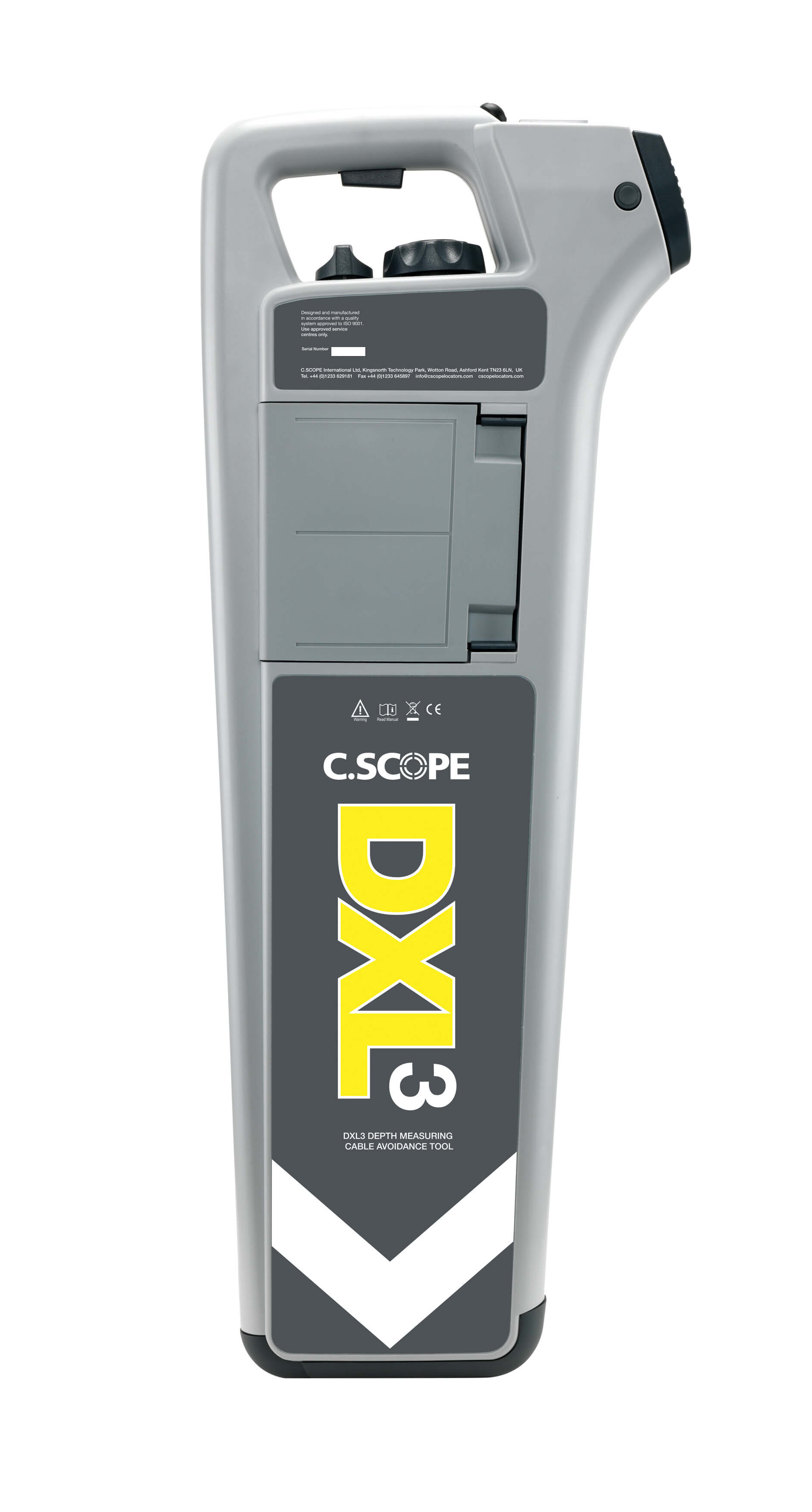 | | |
| --- | --- |
| | Compatible with most 33 kHz Transmitters and Sondes |
| | Depth Estimation when used with Transmitter or Sonde |
| | Clear LCD Visual Display |
| | 3 Year Manufacturer Warranty |
C.Scope DXL3 Cable Avoidance Tool with Depth
Robust and affordable modern standard Cable locator instruments used to detect buried pipes and cables prior to excavation. With a tried and tested design, the CXL3 and DXL3 from C.Scope can be used with all standard accessories including the SGA3 Signal Generator, 33 kHz Sonde and 80m Flexible Tracer.
This model adds a depth mode which when used with a SGA3 Signal Generator can provide an accurate depth reading.
| | |
| --- | --- |
| | Compatible with most 33 kHz Transmitters and Sondes |
| | Depth Estimation when used with Transmitter or Sonde |
| | Clear LCD Visual Display |
| | 3 Year Manufacturer Warranty |
Fast Easy Secure Shopping
No Account Required
Description
The C.Scope DXL3 depth measuring Cable Avoidance Tool is a robust and affordable industry standard cable detector used to detect buried pipes and cables prior to excavation.
Hitting and damaging buried services when excavating is costly and potentially very dangerous. The C.Scope Cable Avoidance Tool is the ideal 'pick-up-and-go tool to locate buried pipes and cables, quickly and reliably, time after time.
SAFE, SIMPLE, QUICK AND RELIABLE
The C.Scope Cable Avoidance Tool has three familiar detection modes (POWER, RADIO AND GENERATOR) to select from. Each mode provides its own specific advantages. Many operators will be familiar with these operating modes.
The POWER mode is the quickest way to detect most buried electricity cables by detecting the signal created by the electrical current itself.
The RADIO mode detects re-radiated Radio type signals that are often present on metal pipes and cables allowing their position to be determined using just the Cable Avoidance Tool alone.
The GENERATOR mode is used to detect the signal applied to a metal pipe or cable by a C.Scope SGA3 Signal Generator. In addition the Generator mode can be used to detect the signal being transmitted by a C.Scope 33 kHz Sonde for non-metallic pipe tracing.
DEPTH MEASUREMENT
The DXL3 Cable Avoidance Tool also features the addition of a simple to operate Depth Measurement button on the top of the product (for use in GENERATOR Mode).
When combined with a C.Scope SGA3 Signal Generator and accessories, the Cable Avoidance Tool becomes a versatile, all round pipe and cable locating and tracing package. Robustly made and equipped with LCD meter, detachable loudspeaker and easy-to-operate fingertip controls the C.Scope Cable Avoidance Tool is the ideal cable detector for all levels of staff who need to be able to detect buried services quickly and with confidence.
CALIBRATION
The DXL3 Cable Avoidance Tool requires annual recalibration.
THREE YEAR WARRANTY
The DXL3 Cable Avoidance Tool comes with a three year Warranty (conditions apply).
Product Details
Power Mode
Radio Mode
Generator Mode:
33kHz frequency detection for locating utilities
Depth Measurement
Liquid Crystal display (LCD)
Real Audio response
Provision for spare battery storage
Retractable loudspeaker
Annual Calibration checks required
Fully weatherproof design to IP65
Three year warranty (conditions apply)
CXL3

DXL3

Power Mode
Radio Mode
Generator Mode 33 kHz
Accurate Depth Indication
Liquid Crystal Display
Periodic Calibration Required*
Three Year Warranty**
Batteries*** 8 x AA (LR6) Alkaline or NiMH Rechargeable
IP65
= Not Available

= Available - enabled by default
Periodic Calibration. The XL3 Cable Avoidance Tool range do require periodic calibration.
** Three Year Warranty. Conditions apply.
*** Batteries. The XL3 Cable Avoidance Tool's use 8 x AA LR6 Alkaline or NiMH Rechargeable batteries sealed in a secure, fitted battery compartment.
The battery pack will typically provide approximately 40 hours of service depending on use.
The battery compartment also houses a spare battery holder.
Product name
DXL3 Cable Avoidance Tool

Part No.
DXL3CAT

Controls

On/Off Switch: Spring loaded trigger switch under handle
Function Select Switch (Three position): P – Power Mode; R – Radio Mode; G – Generator Mode
Sensitivity Control
Depth Button: Push button for live display of depth – DXL3 only

Audio Indication
Removable and user replaceable loudspeaker module

Visual Indication
Multi-segment Liquid Crystal Display indicating:

Signal Strength; Mode selected; Battery Condition;
Depth Measurement (in Generator Mode) – DXL3 only

Construction
Case moulded from high impact plastic. Designed to withstand 1m (3'3") drop onto a hard surface

Weight (including batteries)
2.9kg (6 pounds 6 ounces)

Dimensions
720mm x 270mm x 63mm (28.3" x 10.6" x 2.4")

Performance

Locate Accuracy: better than 10% of depth
Depth Accuracy: ±5% @ 1m (3'3") – DXL3 only
Depth Measurement Range: Line 0.2m to 3m (8" to 10')
Depth Resolution: Line 0.05m
Depth Measurement Range: Sonde 0.85m to 4.5m (2'9" to 15') – depending on Sonde type
Depth Resolution: Sonde 0.15m

Battery Type
Internal 8 x 'AA' (LR6) cells (either alkaline non-rechargeable or NiMH rechargeable)

Battery Life
40 hours intermittent use at 20ºC (68ºF) using alkaline cells

IP Rating
65

Note
Performance figures stated can be affected by site parameters such as ground conditions, temperature, and strong electromagnetic fields.
Specification may be subject to change.
All C.Scope Locators are in compliance with the essential requirements and other relevant provisions of Council Directive 2014/30/EU.
Compliance has been demonstrated by testing representative samples to the relevant harmonised standards.All C.Scope Locators comply with the RoHS directive, 2011/65/EU.
More Products in this range