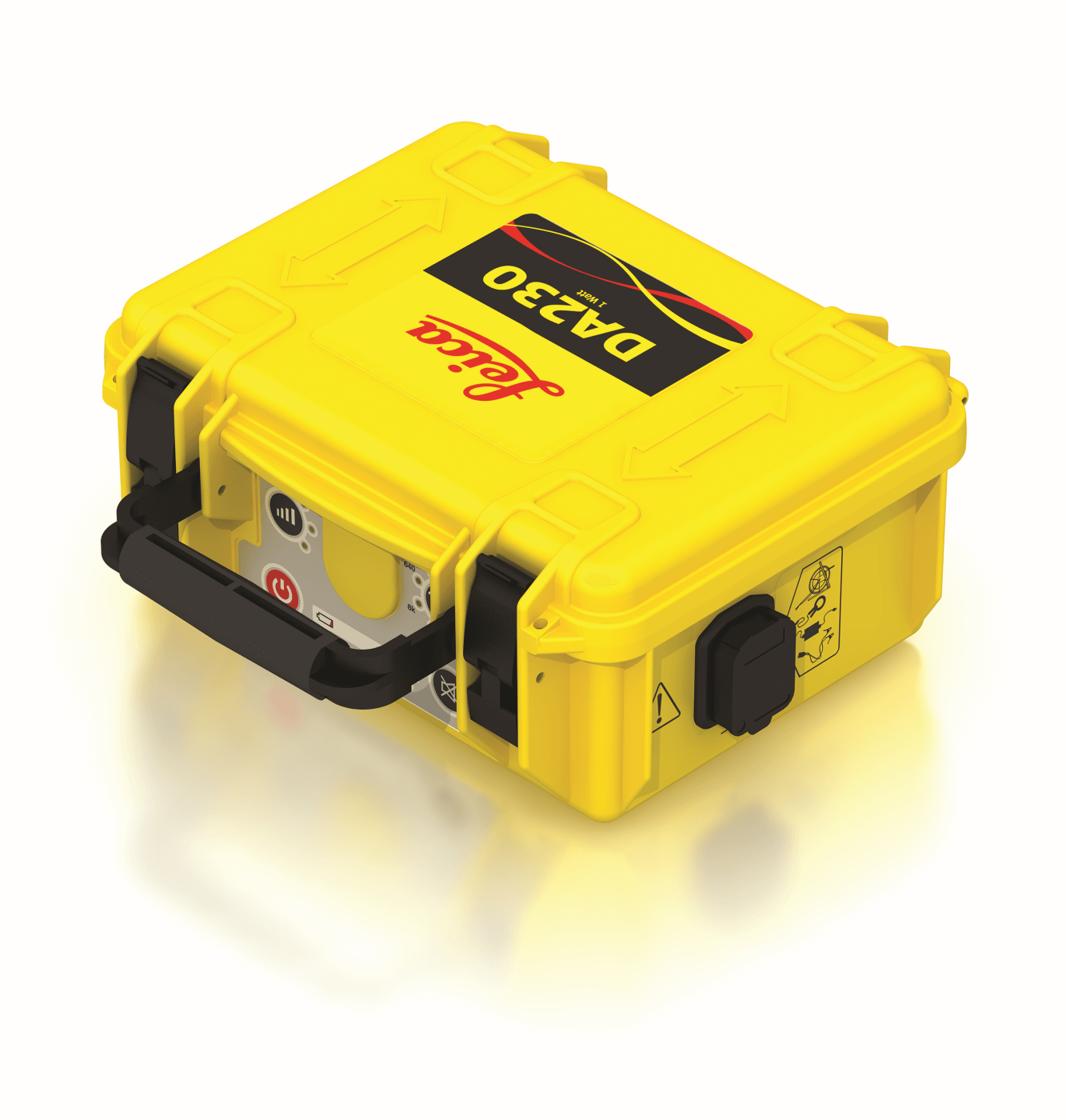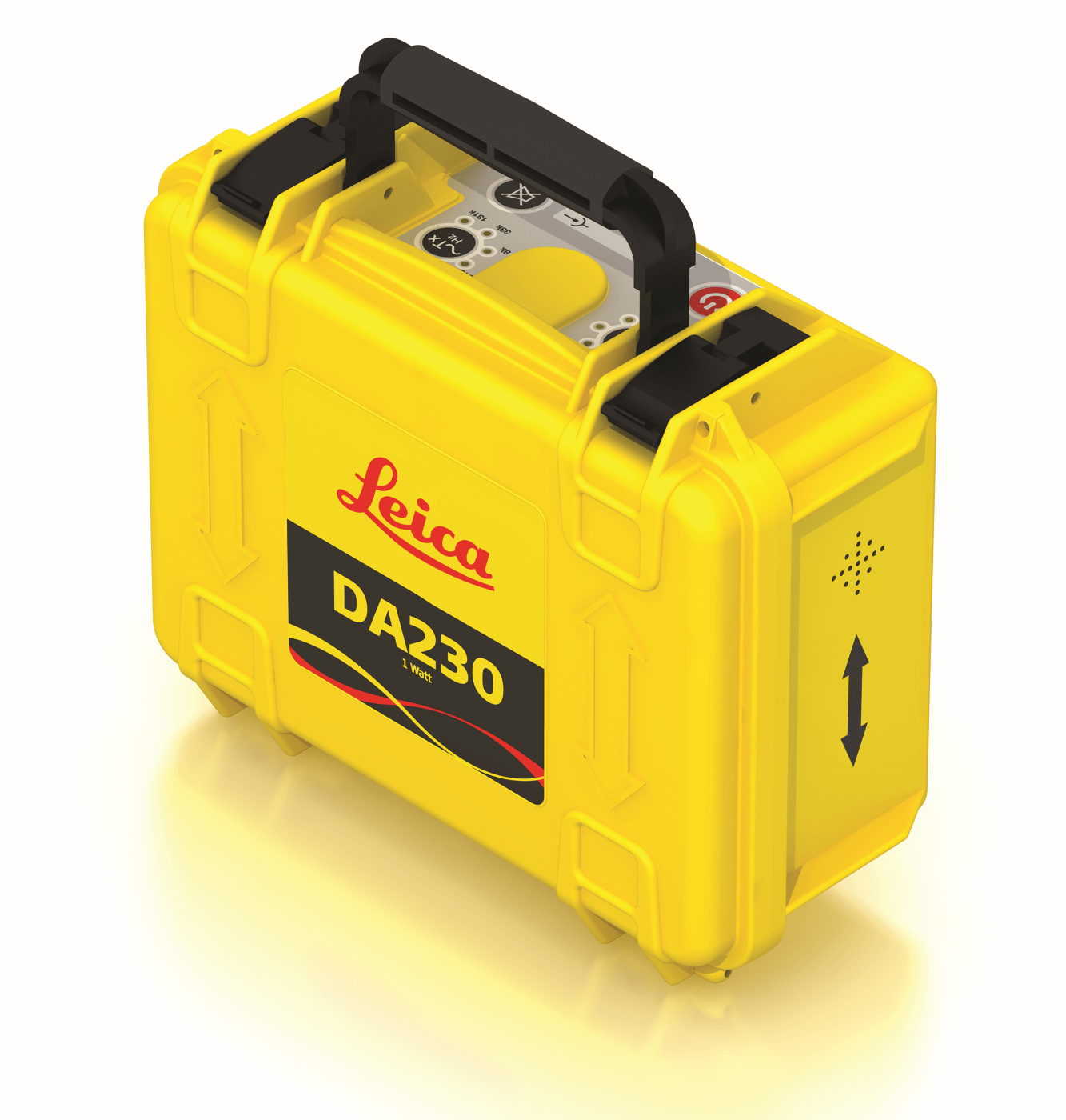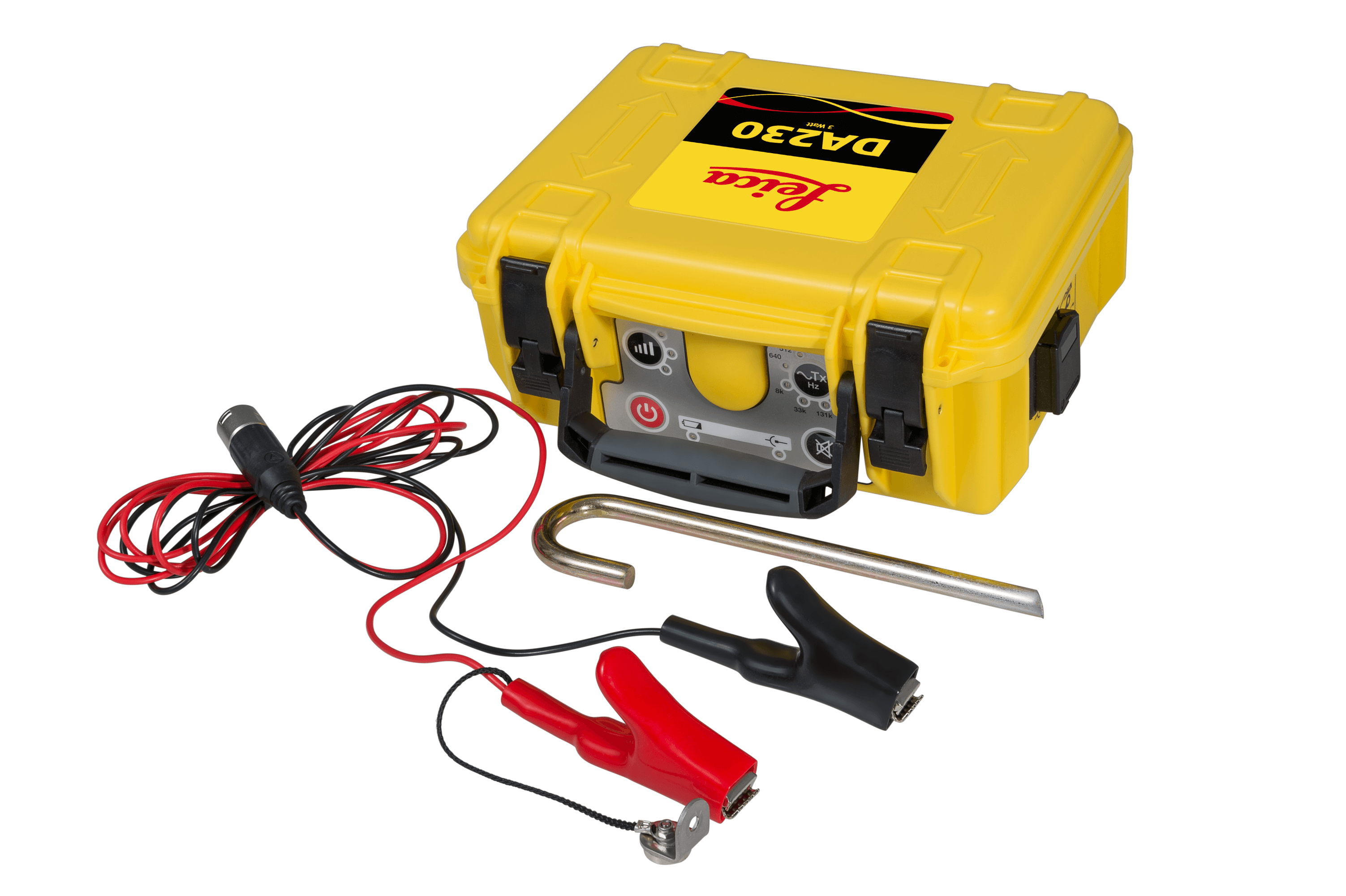 | | |
| --- | --- |
| | Powerful 1 watt Signal Output |
| | Compatible with most 8 & 33 kHz Cable Locators |
| | 512 Hz and 640 Hz Enabled |
| | Compact Lightweight Design |
| | Rechargeable Li-Ion Battery |
| | 3 Year Manufacturer Warranty |
Leica DA230 1 Watt Signal Transmitter
The Leica DA230 Multi Frequency 1 Watt Signal Transmitter with extended 512Hz and 640Hz frequencies - use in conjunction with the DD100 or DD200 Series Smart Cable Locators to achieve improved accuracy and application scope - accessories include Trace Rod 50, Midi 8/33 Sonde, Signal Clamp and Property Connector.
| | |
| --- | --- |
| | Powerful 1 watt Signal Output |
| | Compatible with most 8 & 33 kHz Cable Locators |
| | 512 Hz and 640 Hz Enabled |
| | Compact Lightweight Design |
| | Rechargeable Li-Ion Battery |
| | 3 Year Manufacturer Warranty |
Fast Easy Secure Shopping
No Account Required
Description
The Leica DA signal transmitters apply a signal onto underground cables or pipes that may not carry a detectable signal. The Leica DD SMART cable locators can then be used to locate the signal from the Leica DD signal transmitter.
The DA signal transmitters are compact, robust and easy-to-use. They have been designed in conjunction with the DD SMART cable locators to easily and accurately avoid, trace or locate buried cables and pipes.
Typically used to:
To improve the detection success.
To trace the route of a utility.
To make a depth or current measurement.
Features additional 512Hz and 640Hz Frequencies.
Product Details
DA230 Features
1 Watt or 3 Watt options.
Compatible with; DD130 Locator DD230 SMART Locators
Trace frequencies
512Hz, 640Hz, 8kHz, 33kHz, 131kHz and combined (33 kHz +131 kHz)
Rechargeable Li-Ion battery as standard
IP67 rating
3 Year warranty
Model
DA220 1W
DA220 3W
DA230 1W
DA230 3W
Induction Mode Frequencies
32.768 (33) kHz
8.192 (8) kHz
32.768 (33) kHz
8.192 (8) kHz
32.768 (33) kHz
8.192 (8) kHz
32.768 (33) kHz
8.192 (8) kHz
Power Output
Up to 1 Watt Max.
Up to 3 Watt Max.
Up to 1 Watt Max.
Up to 3 Watt Max.
Direct Connection Mode Frequencies
131.072 (131) kHz
32.768 (33) kHz
8.192 (8) kHz
131.072 (131) kHz
32.768 (33) kHz
8.192 (8) kHz
131.072 (131) kHz
32.768 (33) kHz
8.192 (8) kHz
512 Hz
640 Hz
131.072 (131) kHz
32.768 (33) kHz
8.192 (8) kHz
512 Hz
640 Hz
Environmental Standard
IP67
IP67
IP67
IP67
Operating Temperature
-20° C to +50° C
-4° F to +122° F
-20° C to +50° C
-4° F to +122° F
-20° C to +50° C
-4° F to +122° F
-20° C to +50° C
-4° F to +122° F
Storage Temperature
-40°C to +70°C, / -40°F to +158°F
-40°C to +70°C, / -40°F to +158°F
-40°C to +70°C, / -40°F to +158°F
-40°C to +70°C, / -40°F to +158°F
Battery
7.4V Rechargable Li–ion
7.4V Rechargable Li–ion
7.4V Rechargable Li–ion
7.4V Rechargable Li–ion
Battery operating time**
15 h
15 h
15 h
15 h
Dimensions (HxWxD)
250 x 206 x 113 mm
9.84 x 8.11 x 4.45 inches
250 x 206 x 113 mm
9.84 x 8.11 x 4.45 inches
250 x 206 x 113 mm
9.84 x 8.11 x 4.45 inches
250 x 206 x 113 mm
9.84 x 8.11 x 4.45 inches
Weight with batteries
2.38Kg
5.25 lbs
2.38Kg
5.25 lbs
2.38Kg
5.25 lbs
2.38Kg
5.25 lbs
* Utility Impedence of 300 ohms
* Defined at 20°c (77°F) power level 2
More Products in this range